Coronavirus (COVID-19) update
Eurovia will be following government guidance on physical distancing and working safely during this pandemic which includes:
Using smaller working groups to allow for adequate physical distancing
Creating extra space in the working area for parking to avoid the use of public transport
Adding extra and / or larger welfare facilities for staff
Using more road space / pavement space when working on areas to ensure physical distancing
A dedicated Covid-19 response member of staff on site at all times ensuring measures are being observed by  site operatives and that all works are being carried out safely for members of the public too.
Daily temperature checks of all site operatives are in place. All Eurovia employees complete a daily survey which captures where they have been working (which sites/WFH), who they have come into contact with and if they are presenting any symptoms etc should any tracing activities be needed if a case within the workforce is reported. No cases or symptoms have been reported from Eurovia staff to date.
Signage is up across the site reminding you to remain 2 m from our work force as they continue this much needed transformational safety work.
There are changes to the way you access Grape Street we have sent a letter explaining the changes to Grape Street access (PDF) to all businesses and residents locally.
NOTE DUE TO WEATHER WARNINGS THE WEEKEND WORKING ON GRAFTON WAY IS SUBJECT TO CHANGE. AT PRESENT SATUDAY WORKING IS EXPECTED
Whitfield Gardens
Huntley Street and Grafton Way
We are now creating the new public space on Huntley Street and improvement works to Grafton Way. Once the work has been completed Huntley Street will also be changed to be one way southbound to improve traffic flows.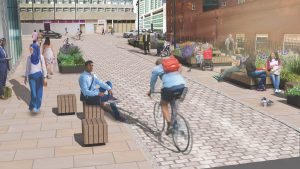 We are working in phases across this area in order to ensure continued access to UCLH's key service areas.Vehicle and pedestrian access to the UCL Cruciform building will be maintained at all times. These dates are currently all subject to change depending on the UCLH construction works.
Standard working hours are between 8am and 6pm Monday – Friday and 9am – 1pm on Saturdays. 
Replacing the pavement along Huntley Street and Grafton Way
Resurfacing Huntley Street and Grafton Way
Creating a raised area of road at the junction of Huntley Street and Grafton Way. This will make crossing the road easier and safer for pedestrians and slow traffic speeds
Installation of a mini-pocket park including seating and green infrastructure
Current progress:
Trial holes for the pocket park are taking place around Huntley Street.
Work is being undertaken on Saturday 16th December to repair three covers in Grafton Way. For more information on this see below.
Princes Circus
High Holborn is now two way to traffic.  Please take care when crossing the road, remember to look both ways and use the pedestrians crossings as the safest way to cross. If you are a cyclist or driver take extra care while you and other road users get used to the change in road layout. 
We are working across the Princes Circus area focusing on lighting connections
There are changes to the way you access Grape Street we have sent a letter explaining the changes to Grape Street access  (PDF) to all businesses and residents locally. 
Gower Street / Bloomsbury Street
The new northbound and southbound segregated cycle lanes are open for cyclists to use. Please note:

The cycle lanes are segregated by a raised kerb in several places
When using these lanes please be aware of loading vehicles pulling in and out of the integrated timed loading bays
Until the change on Gower Street / Bloomsbury Street to two way traffic in early 2021, cyclists will also be able to temporarily use parts of the new northbound traffic lane, which will be free from any vehicles.

We are working on Gower Street and Bloomsbury Street on the road markings and signage in preparation for the change to two way traffic.
Gower Street is now one lane southbound. The future northbound lane is in place and blocked off for use until the final change to two way traffic. 
Work at the northern end of Gower Street near Euston Square station is not related to our project. This is HS2, who have now restarted their work and have a separate programme of works.
Tottenham Court Road
From the 7th December we will be adding signage in preparation to the change to two way traffic. We will also be working on road markings, some short term disruption should be expected while we complete this work. 
From early January we will be working on the cycle lane on Tottenham Court Road near Howland Street. These changes and works are expected to take around a month to complete and we will then trial the opening of the cycle lane again. 
Alfred Place
Alfred Place is being transformed by our contractor idverde whose working hours are Mon-Fri 8am to 5pm and Sat 8am to 1pm.
Trial holes are taking place across the area
The Eurovia compound will be removed from the 4th January and work will then begin on surrounding the entire site to be worked on with hoarding. 
Repair work to Grafton Way
Having completed resurfacing areas of Grafton Way we are unfortunately having to revisit three utility covers which are causing a consistent noise. To rectify this problem we will need to excavate to replace the covers and then resurface around the replacements.
Completion of this work will require weekend working on Saturday 16th January to minimise the impact on UCLH Hospital and London Ambulance Service and the surrounding road network. We will need to close Grafton Way between Tottenham Court Road and Huntley Street on Saturday for this work to take place, and keep the road closed on Sunday for the materials to settle.
Access from Beaumont Place to Grafton Way will be limited to smaller vehicles only, as some of the works are located at the Huntley Street/Grafton Way/Beaumont Place junction limiting the road space available. Larger vehicles will need to exit Beaumont Place back onto Tottenham Court Road.
Signed diversion routes will be in place for these closures. Noise should be expected as the team break up the road around the faulty covers, make the repair and from works related to vehicles in the area when the resurfacing takes place.
We thank you for your patience around this unforeseen work.
Summary of work 
Saturday 16th January: Repair and resurfacing work to take place on Grafton Way.
Sunday 17th January: Grafton Way partially closed to allow time for materials to settle – no work will take place. This will be opened as soon as possible
Working hours will be 9am – 5pm Saturday. Teams will start arriving before this time to prepare for closing the road at 9am.
Please note Thames Water will also be undertaking works in this area, this weekend – this is unrelated to the West End Project.
The programme for our works with further details on access can be found below. Please note that this is subject to change.
Date
Area to be resurfaced / Road closed
Additional road closures
Access restrictions
16th - 17th January 2021
Grafton Way between Huntley Street and Tottenham Court Road.

Beaumont Place (junction with Grafton Way) open for smaller vehicles with restricted access for larger vehicles (LGV and HGV).

Beaumont Place will be access only for larger vehicles (LGV and HGV). Access from/to Tottenham Court Road will be maintained. Smaller vehicles only, will be able to exit Beaumont Place onto Grafton Way and then onto Gower Street.

Grafton Way between Beaumont Place and Gower Street will be two-way to traffic in/out of the junction with Gower Street for ambulances and traffic accessing maternity unit only.

Grafton Way between Huntley Street and Tottenham Court Road will be entirely closed.

Road closures – diversions in place.

Marshal will be in place 7am - 9pm at the Grafton Way/Gower Street junction to ensure ambulance access/priority and to ensure access to the maternity unit. A second marshal will be positioned on Beaumont Place, by the main entrance to the hospital, 7am - 9pm to ensure ambulance access and priority. Access to the resident car park can be made via Beaumont Place.

Grafton Way between Huntley Street and Gower Street will temporarily become two way to traffic during these works.

The bus stand and marked parking bays on Grafton Way outside UCLH will be temporarily suspended during these works.

Pavement access between Huntley Street and Gower Street remains unchanged.

Last updated: 15.01.21