About
The West End Project is Camden Council's £35 million scheme to deliver exciting improvements to the heart of Camden's busy West End. Work is close to completion to transform the areas around Tottenham Court Road, Gower Street, Bloomsbury Street, Princes Circus and St Giles, helping the area to continue to grow and flourish.
Major changes have already included Tottenham Court Road and Gower Street/Bloomsbury Street becoming two way to traffic, reducing congestion and air pollution and speeding up bus routes. There are new safer provisions for cyclists as well as new and regenerated public and green spaces. 
The project is providing safer, greener and more attractive streets for residents and visitors helping to attract, sustain and boost local businesses. This includes wider pavements with new high quality materials, the removal of street clutter and new pedestrian crossings.
The rich heritage of the area is being celebrated through the restoration of the local War Memorial, the Fitzrovia Mural and the historic lamp posts on Tottenham Court Road.
Locations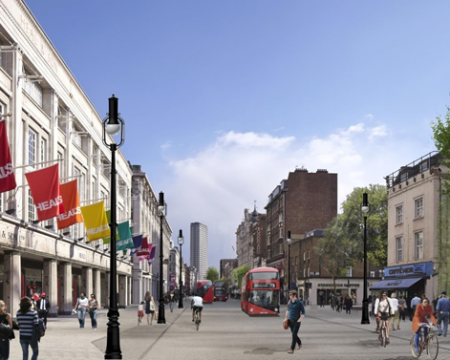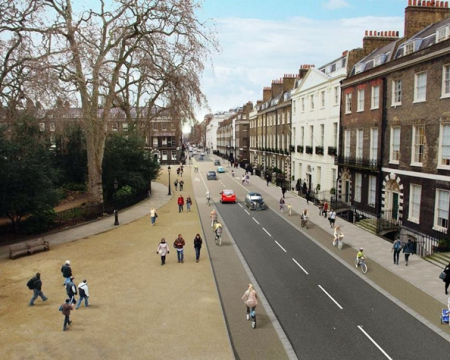 Transformations
Below is a map of the project area highlighting the changes taking place. If you have any difficulties in accessing this information or would like to receive this in an alternative format please contact us directly.
Partners
The project was approved in 2015 and Camden Council has been working in partnership with Transport for London, Crossrail: The Elizabeth Line Project, City of Westminster Council, Central District Alliance (was BeeMidtown), The Fitzrovia Partnership and London First. We received over 1,000 responses to the original consultation from residents, businesses and local interest groups which has helped to shape the project. We continue to work closely with local resident associations, businesses and special interest groups to ensure the project delivers the transformation that the area and its community deserves.