Read the letter sent to all businesses and residents
We have published a guide for businesses on changes to deliveries which you can read here West End Project Delivery Guide. All the maps can be found on our website map section.
Key changes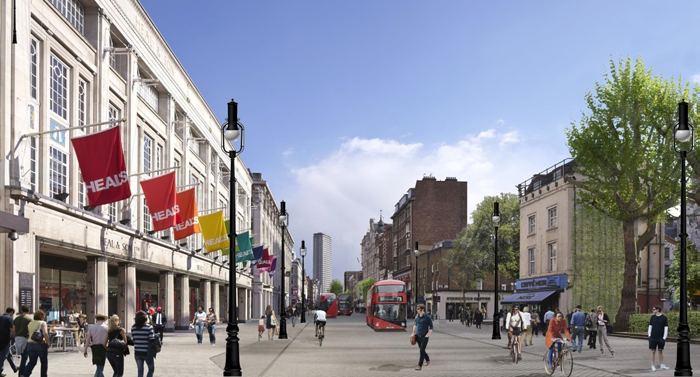 Saturday 20th April: Tottenham Court Road two way 
All buses serving Gower Street / Bloomsbury Street change to Tottenham Court Road on Saturday 20th April
Pedestrians should LOOK BOTH WAYS when crossing 
The northbound lane can be used as normal
The southbound lane is for buses and cyclists only 24 hours a day until spring 2020
Advice to pedestrians
Please take care when crossing Tottenham Court Road and remember to now look both ways for traffic. There are a number of pedestrian crossings along the road which we would encourage you to use. We will have stewards on the street to remind people of the change for the first few days.
Advice to cyclists
Tottenham Court Road southbound will be buses and cyclists only 24 hours a day from Sunday 20th April until spring 2020 when the permanent restrictions come into place. Cyclists travelling south from Hampstead Road may find it easier to continue to use Gower Street southbound.
Tottenham Court Road northbound will be busier while we are working on Gower Street and so cyclists may find it easier to use Quiet Route 1. 
Advice to bus passengers
Buses are planned to run southbound on Tottenham Court Road from Easter Saturday. 
Buses will no longer service Gower Street / Bloomsbury Street.
The new bus stops on the southbound side of Tottenham Court Road are located as follows:
Between University Street and Capper Street outside No. 170
Between Torrington Place and Chenies Street outside Lombock
Between Bayley Street and Bedford Avenue outside No. 274 and Blacks
The bus stops on the northbound side remain in the same locations but please be aware that the bus stop at Percy Street / Windmill Street has been permanently removed to improve bus journey times. 
Advice to motorists
Until the project is fully completed in spring 2020 you are still able to use the northbound lane on Tottenham Court Road unrestricted. A map can be found here.  Delays should be expected until Gower Street is completed as the northbound is restricted to one lane. You may wish to seek alternative routes or consider using alternative ways to travel. 
The southbound lane is for buses and cyclists only 24 hours a day. Motorbikes are also excluded.
When the project is fully completed in spring 2020 there will be restrictions on parts of both southbound and northbound lanes of Tottenham Court Road. Maps are available showing those restrictions.